Travel Oz Source to Sea DVD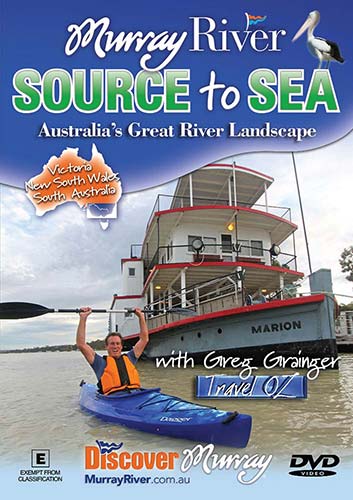 Travel Oz Source to Sea DVD
$15.00
Join Greg Grainger as he experiences the soul of Australia…our mighty Murray River. The 2520 km journey begins at the river's source and river border between Victoria and New South Wales at Cowombat Flat and ends at the sea, the Murray mouth near Goolwa, South Australia.
Only 40 kilometres from Australia's highest peak, Mt Kosciusko, the snow gently falls as Greg discovers the headwaters of the Murray River. He moves through Man from Snowy River country and the Upper Murray to Lake Hume. You'll experience Australia's diverse food bowl and communities, historic wineries, orchards, Murray Cod nurseries and much more.
Enjoy Australia's largest paddle steamer fleet in Echuca Moama and the serenity of houseboating on the Murray River. Dine with legendary chef Stefano de Pieri in Mildura and meet a local Paakantji Aboriginal guide Graham Clarke from Harry Nanya and explore the Perry Sandhills, then kayak through the stunning biosphere near Renmark Paringa, South Australia.
As the Murray River heads south from the great nor' west bend at Morgan, you'll explore Lock No.1 and its unique fish ladder and the golden, ancient limestone cliffs of Big Bend. Kayak around the amazing river heritage of Mannum and see the shacks of the Coorong. Finally Greg encounters some local seals and completes his Murray River journey as he paddles out to the Southern Ocean and Encounter Bay.
Join him on this unique and wonderful Australian river experience along our iconic mighty Murray.
Highlights on their expedition include:
The horse riding family of the Upper Murray as they round up cattle
The eerie forests of dead red gums on the Hume Weir
The Hume Weir: Releasing water, exploring its tunnels
The farmers: Raising everything from sheep and Murray Cod to oranges and mandarins
The Paddlesteamers. Travelling on them, restoring them
Cooking with the master chef of the Murray, Stefano de Pieri
Kayaking the Biosphere near Renmark Paringa
The locks and lock masters, including fish ladders
The many characters along the Murray